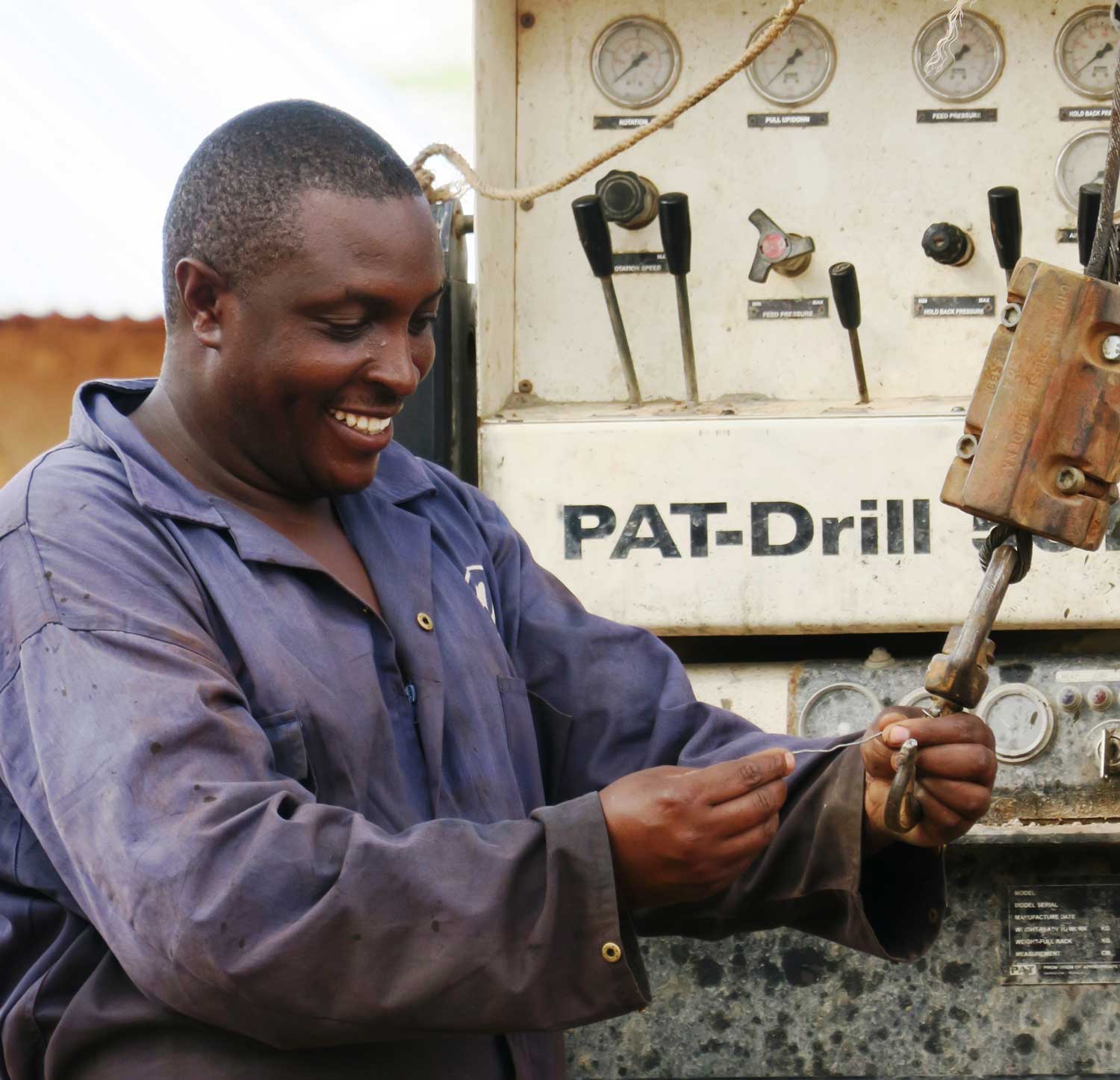 At Water for the World, he is simply known as "001". Staff refer to Paul Njamba as "001" because he was the very first employee at Water for the World when the organization started its operations in Kenya in 2008. Paul's kind spirit and tall stature make the term "gentle giant" very fitting.  His dark blue cover-overalls are custom made extra-large. Perhaps the only thing larger than is coveralls is his heart. The nobility with which he performs his job as a head driller is unexpected from a man who works in some of the harshest, marginalized, under-served parts of Kenya. Whatever the case might be, Paul is one of those people that make you feel assured "that the work will be done, and it will be done well".
Paul joined W4W in January 2008 as a driver with a background in automotive engineering. He remembers fondly the first borehole that was ever drilled by W4W. He witnessed the Pat Drill 401 sink a 180 meter borehole at Karura Community Church, and his eyes lit up as he described the feeling of wonder that he experienced as water sprouted from the dry ground and quickly turned into a river of fresh clean water right before his eyes. In his own words, "that was the moment I committed myself to become part of the transformation that regularly happens each time W4W successfully completes a water project.  Helping communities that suffer from acute scarcity of water and people having to walk for hours to quench their thirst, to one where there is abundance of water for personal use, agriculture and animals. This transformation is what gives W4W's motto (dignity in life) meaning to me."
Paul has seen the growth of W4W from the initial five employees in 2008 to its current 25 member staff. In 2008, W4W completed 4 boreholes and only had the capacity to drill up to 200 meters. In 2018 W4W completed 45 boreholes, with some of them being 400m in depth.  Today there are additional units that work exclusively in Drilling, Test Pumping, and Installations. In those 10 years, Paul worked himself through the ranks from being a driver, to becoming Head Driller at W4W. Listening to Paul talk about the challenges that his team often faces such as security risks due to terrorism and banditry, difficulty in accessing sites due to bad or non-existent roads, time away from loved ones, or challenging supply chains that at times requires fetching fuel on camels, it becomes clear that Paul does not have an ordinary job, but rather a calling.
I asked Paul, what keeps you going? Paul smiled and quoted the mantra that was bequeathed him by the first W4W Managing Director, Bruce Collins: "Do it as if you are doing it for the Lord". Other than that, there is the satisfaction of knowing that his job makes a difference; that a single borehole can save many lives and change the fortunes of generations to come. He is also encouraged by the timeless corporate values that W4W has held dear from its inception: Service, Integrity, Teamwork, Excellence, Efficiency and Respect. As "001" walked away from the interview and back to his busy work day schedule, I was overcome by a feeling that can adequately be expressed by the words in Hebrews 6:10:
"God is not unjust; he will not forget your work and the love you have shown him as you have helped his people and continue to help them."